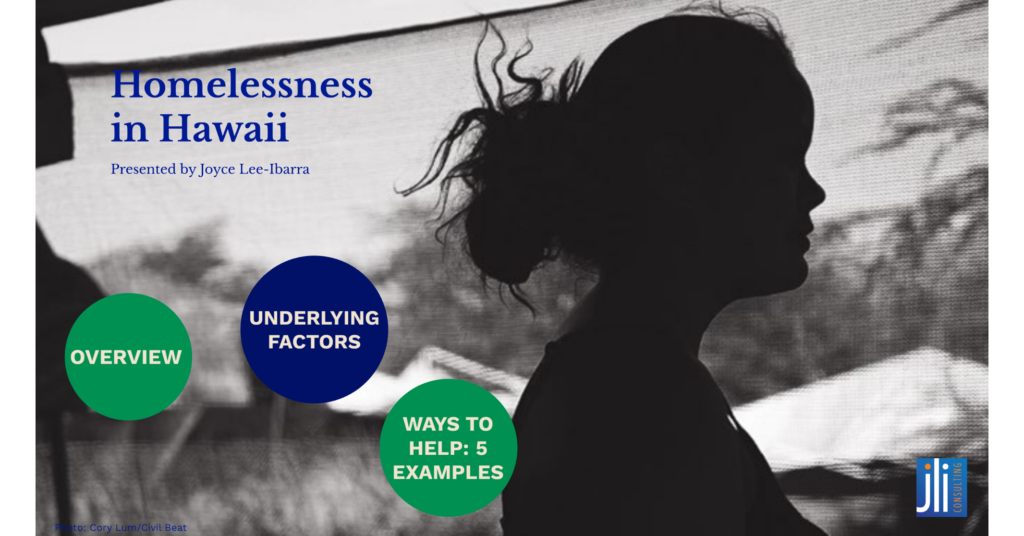 As a result of a survey to League members, JLH has selected homelessness as its new focus area starting the 2018-2019 League year.
Homelessness is one of the state's most pressing problems.
Hawaii has the highest rate of homelessness per capita in the nation, with more than 6,500 homeless persons in the state—including women and children. Sixty-nine percent of that population lives on Oahu.
(Sources: 2018 Combined Statewide "Hawaii Still No. 1 in Per Capita Homeless," Star-Advertiser, Dec. 6, 2017; Point-in-Time Count, Partners In Care.)
How will the League address homelessness on Oahu?
We recently invited Joyce Lee-Ibarra, the Founder and Principle of JLI Consulting, a nonprofit consulting firm, to a GMM to provide an overview of homelessness in Hawaii and share the findings of a study she co-authored on the institutional touchpoints of homelessness.
In September 2018 the League will send RFPs to organizations that are interested in partnering with JLH on a project that would help women and/or children within the homeless population.
We are partnering with local agencies and nonprofits such as IHS (Institute for Human Services), the Hawaii Food Bank, Next Step Shelter and Hale Kipa for Done-In-A-Day projects.