Fall 2019 New Member Project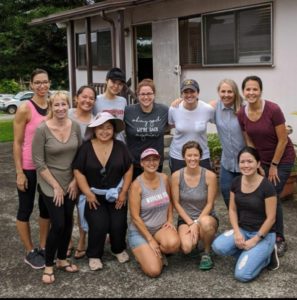 The Fall 2019 New Member Class collaborated with Family Promise of Hawaii to brighten up the new Wahiawa. Family Center. The team painted and cleaned to create a beautiful play area, work/study area, and a welcoming and safe environment for the families the Center supports. 
In addition to renovation work, our Junior League of Honolulu Sustainers partnered with our New Member Class to provide kitchen and household items for the "New Home Baskets" that families of the Center receive upon leaving.
About Family Promise of Hawaii 
Family Promise of Hawai'i's mission is help homeless and low-income families in Hawai'i achieve sustainable independence by mobilizing existing community resources and support. Family Promise of Hawai'i offers a variety of supportive services for families with children who are experiencing crisis and are at-risk of becoming homeless. They provide a place for job search, shower, laundry, kitchen and pantry utilization, and financial literacy education. Family Promise of Hawai'i provide emergency housing for families while helping families transition to permanent housing. Family Promise of Hawai'i follows up with each family providing them resources and education to empower and support families sustain living in permanent housing.