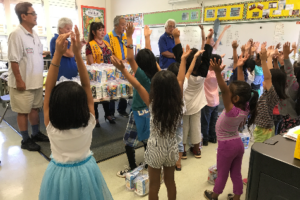 Come support Hawaii Foodbank with their Keiki Backpack event!    We had so much fun helping with the Senior Food Box Packing event, that we decided to do another event with the Hawaii Foodbank.  The Backpack Program is a unique program that provides extra meals to sustain children from low-income households over the weekends. Students of Princess Victoria Kaiulani Elementary School and Linapuni Elementary School in Kalihi receive pre-assembled food packages every Friday during the school year.  Junior League of Honolulu has been asked to provide 20 volunteers for this event, all 16 years of age or older.  Rather than packing boxes of food, we will be packing gallon sized ziplock bags and stuffing backpacks.
The event will be on Saturday, January 5, 2019 from 8 AM – 12 PM (1 shift only) at the Hawaii Foodbank Warehouse (2611 Kilihau Street, Honolulu, HI).  You must be able to lift at least 30 lbs and stand for long periods of time.  In addition, dress code requirements are covered shoes (heels and toes must be covered), comfortable clothing, shorts must be mid-thigh length or longer and shirts must have sleeves and midriffs must be covered.
Please sign up here to volunteer.
Thank you for coming out to support the Hawaii Foodbank!