Who: All invited (JLH, HAPA, friends & family)
Contact: Eileen: 808-227-6553, Margie: 808-351-9310, Leslie: 808-295-6394
Bring a pupu, and don't worry if you don't have time to read both books – come anyway!
Check out our Facebook page: HAWAII JUNIOR LEAGUE/HAPA BOOK CLUB & FRIENDS
May Selections:
---
WHERE THE CRAWDADS SING BY DELIA OWENS
#1 New York Times Bestseller
A Reese Witherspoon x Hello Sunshine Book Club Pick
"I can't even express how much I love this book! I didn't want this story to end!"–Reese Witherspoon
"Painfully beautiful."–The New York Times Book Review
"Perfect for fans of Barbara Kingsolver."–Bustle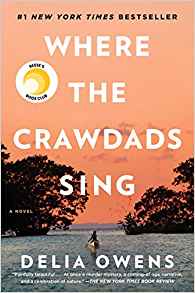 For years, rumors of the "Marsh Girl" have haunted Barkley Cove, a quiet town on the North Carolina coast. So in late 1969, when handsome Chase Andrews is found dead, the locals immediately suspect Kya Clark, the so-called Marsh Girl. But Kya is not what they say. Sensitive and intelligent, she has survived for years alone in the marsh that she calls home, finding friends in the gulls and lessons in the sand. Then the time comes when she yearns to be touched and loved. When two young men from town become intrigued by her wild beauty, Kya opens herself to a new life–until the unthinkable happens.
Perfect for fans of Barbara Kingsolver and Karen Russell, Where the Crawdads Sing is at once an exquisite ode to the natural world, a heartbreaking coming-of-age story, and a surprising tale of possible murder. Owens reminds us that we are forever shaped by the children we once were, and that we are all subject to the beautiful and violent secrets that nature keeps.
---
THE GREAT BELIEVERS BY REBECCA MAKKAI
WINNER OF THE ANDREW CARNEGIE MEDAL
WINNER OF THE STONEWALL BOOK AWARD
SHORTLISTED FOR THE NATIONAL BOOK AWARD

Soon to Be a Major Television Event, optioned by Amy Poehler

"A page turner… An absorbing and emotionally riveting story about what it's like to live during times of crisis. "—The New York Times Book Review
A dazzling new novel of friendship and redemption in the face of tragedy and loss set in 1980s Chicago and contemporary Paris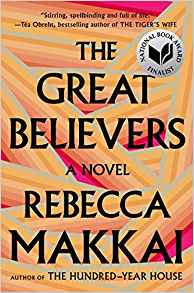 In 1985, Yale Tishman, the development director for an art gallery in Chicago, is about to pull off an amazing coup, bringing in an extraordinary collection of 1920s paintings as a gift to the gallery. Yet as his career begins to flourish, the carnage of the AIDS epidemic grows around him. One by one, his friends are dying and after his friend Nico's funeral, the virus circles closer and closer to Yale himself. Soon the only person he has left is Fiona, Nico's little sister.
Thirty years later, Fiona is in Paris tracking down her estranged daughter who disappeared into a cult. While staying with an old friend, a famous photographer who documented the Chicago crisis, she finds herself finally grappling with the devastating ways AIDS affected her life and her relationship with her daughter. The two intertwining stories take us through the heartbreak of the eighties and the chaos of the modern world, as both Yale and Fiona struggle to find goodness in the midst of disaster.
The Great Believers has become a critically acclaimed, indelible piece of literature; it was selected as one of New York Times Best 10 Books of the Year, a Washington Post Notable Book, a Buzzfeed Book of the Year, a Skimm Reads pick, and a pick for the New York Public Library's Best Books of the year.